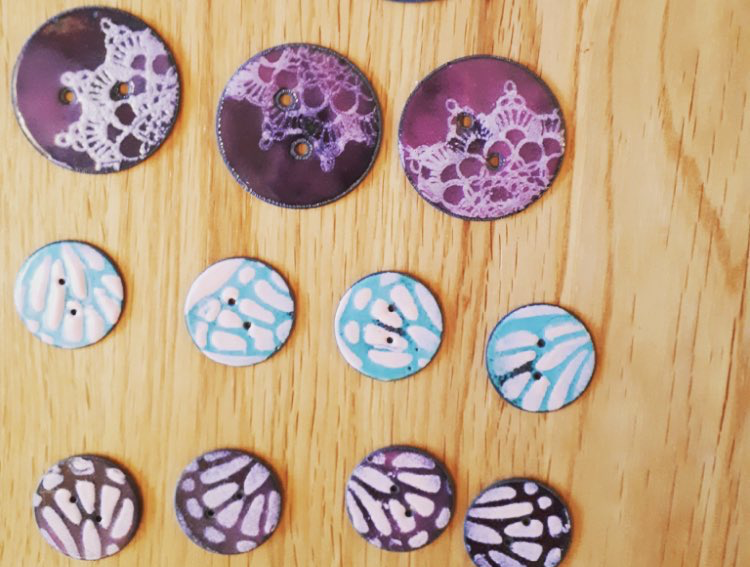 Shetland Wool Week 2018.
 I love Shetland Wool Week, it's my favourite week of the year. It's always great to meet old and new friends.
A member of one of my classes was surprised that we all seemed so pleased to see them (locally known as 'The Wool Weekers') and I could assure her that the reason for that is that we genuinely ARE pleased to see them. I mean living in Shetland in great but there is a great big sea around us – travel is expensive and difficult in the winter.  After a while seeing the same old faces all the time can get a bit, well, monotonous.  It is fabulous having 600 folk arriving in Shetland for a week in the hairst (autumn). What could be better? And not only 600 new folk but 600 new KNITTERS!  
On seeing a photo of a plane load of Amy Detjen's tour group, 'Celtic Journeys' setting off for Shetland with Amy Armstrong in the front, one of my bairns  exclaimed " Mam, I thought nobody looked like you but actually ALL the Wool Weekers look like you! " I think she means head to toe in knitwear but I'm not 100% sure. I've taken it as a compliment.  More info on Amy's tours can be found at https://www.feralknitter.com/
Anyway I am always conflicted when planning for Shetland Wool Week. I would love to just chill out and spend time with the new friends I have met through the event and go to a few classes myself but I also love sharing my skills and knowledge with new folk so love to run workshops too.
I have very loyal friends who come to whatever workshops I am running so I like offer new workshops and experiences every year. This also helps me grow and expand my range although it can mean that preparing for Wool Week can take a long time. As one of my daughters asked "How many Wool Weeks is there in a year?!"
Enamel Your Own Buttons
In 2018 I ran" Enamel Your Own Buttons" on Monday and Tuesday. This is always a fun class though hectic for me! 
 Each person enamelled a set of 8 buttons the correct size for Kate Davies' Carbeth Cardigan. (You only need 6 for this cardigan but we made 8 just in case), 2 larger feature buttons and 3 medium buttons. You can find out more about the Carbeth Cardigan here https://www.shopkdd.com/
We used several techniques including stencilling, stamping and sgraffito.
I love Alison Rainford's photo of her buttons used on her woven cushions.
 I will be repeating this class again in 2019.
Designers' Talk
On the Thursday night Andrea Williamson and I did a talk about our designs and design process. We were well supported as ever by our families who turned up with boxes and boxes of fancies (Shetland Homebakes) for the supper.  I have always loved Andrea's designs and was fascinated to hear the stories of their origin.  It was very humbling to have so many people come to hear us and great to spot some knitty friends in the audience. We are planning to repeat this again in 2019 and are also both going to launch new collections that night (no pressure!).
You can view some of Andrea's designs at https://shetlandartsandcrafts.co.uk/
 Introduction to Fiss Knitting
 This is an exciting NEW knitting technique that I've dreamt up and developed.  I like pushing boundaries and questioning rules and I LOVE colour. Growing up in Shetland I could knit fair isle before I knew my times tables.  As an adult, when I started trying slip stitch knitting – it seemed obvious to me that the plain rows could be knit using fair isle technique and so by combining the two techniques FISS knitting was born.
The very first FISS knit class ever was run on Wednesday 26th Sep 2018 (which was coincidentally my birthday!).
It was great, but sadly I was so excited I forgot to get a group photo! Suffice to say we had a ball and I hope will have a reunion at future Wool Weeks.
Juliet Bernard attended the class and was very taken with my new technique, calling it 'Genius!' and asked to interview me for The Knitter magazine which is very flattering and exciting.  http://www.theyarnloop.com/the-knitter. 
One of the class, Gieneke in particular fell in love with the technique and had, using the patterns learned in the class, went on to make this gorgeous hat and gloves.
In my next blog I will explore the technique and discuss its origins and name. In the meantime if you'd like more information about Shetland Wool Week you can get it here :https://www.shetlandwoolweek.com/
I hope to see you there! xx