Aerial Archaeology Inspired Design Fluidity in Textiles and Jewellery.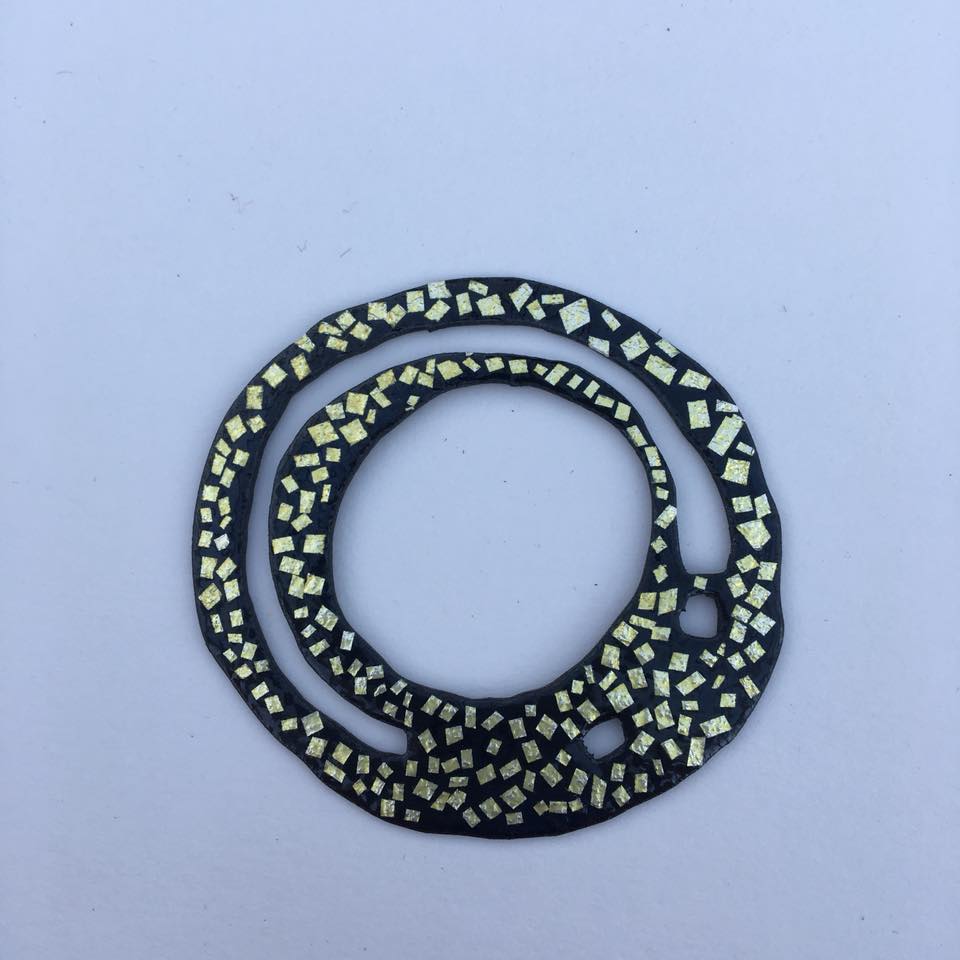 Mousa is one of the most magical places on earth. To get there the short boat trip takes you across Mousa Sound where you will most probably see selkies (seals), tirricks (artic terns), artic skuas, black guillemots as well as the odd tammie norie (puffin) or solan (gannet).
https://www.historicenvironment.scot/visit-a-place/places/mousa-broch/
It has the best preserved Pictish Broch in the world. Standing at 13metres (43ft) high, it was built more than 2000 years ago. It is circular in shape and with a hollow inside wall. Part of its construction allows less weight on the lintels, showing that the builders knew exactly what they were doing!
 It also points to an organised society that was capable of feeding and organising Pictish architects, joiners and labourers.
The most amazing thing for me about the Mousa Broch is that it was one of a network of many, many brochs dotted around the coastline of Shetland, all within sight of each other continuously around the coast. As shown on this image by 
https://twitter.com/DiasporaDan
New research shows that broch building probably originated in Shetland. There are some brochs in Orkney and the north mainland of Scotland but the further north you go, they older they date.
I loved going there as a child, and I love taking my own children now too. It's a place I try and get to every year.
This fascinating photo of the Mousa Broch was taken by Darron Smith, who now runs the Mousa Boat in and out of Mousa during the Spring and Summer whenever the weather will allow. 
The photo inspired me to create a range of jewellery based on the Aerial View of Mousa Broch. I love that this is a very modern view of an ancient site. The birds have seen it like this for years, now, thanks to drone technology we can see it too.
I combined this image with a desire to find a new way of designing. I wanted to try and create design fluidity between my textile design and my jewellery design. I had already taken textile processes and realised them in metal but I wanted to push it further.
I applied for and received a Ding Fellowship Award from the Glasgow School of Art (there may have been tears when I got that confirmed!). The award sought to part fund novelty in the creative community in Scotland.
I took the image and to create a piece of jewellery, I went through my design process for textiles.
This is my design in Legacy of Shetland Lace.
 https://shop.shetlandtimes.co.uk/products/a-legacy-of-shetland-lace?_pos=1&_sid=1acba46c1&_ss=r
  When I was holding my solid piece of silver sheet I was thinking of ply, texture, gauge, fit, 3D, continuity, drape, lace, Arran, fair isle etc.
The lace knitting being based on holes led me to cut the holes to show the shape of the broch.
Then with the cut out shape I considered how I could incorporate Fair Isle knitting into the piece. Fair Isle knitting is based on the simple 'rule' of only using two colours in one.(These socks are my design in the Fair Isle from Shetland Knitters Vol 2).
 https://shop.shetlandtimes.co.uk/collections/knitting/products/fair-isle-designs-from-shetland-knitters-volume-2 
I realised if I enamelled the piece, I could add tiny silver mosaic pieces using a cloisonne process and give a two colour effect.
 Later with another pierced out solid piece I decided to add texture by hammering.
The design is now available either textured or enamelled as a necklace,  as dangly earrings, large stud earrings and as a brooch.
For designing a textile inspired by the aerial view of Mousa, I thought about my jewellery design process so I considered sawing, filing, annealing, shaping, hammering, joining, layering, riveting.
I experimented with a variety of Shetland yarn and in the end chose the thickest Jamieson of Shetland natural as I could get the best texture with it and it felt somehow really old. https://www.jamiesonsofshetland.co.uk/
 To create contrast, I knitted the edge part in moss stitch and the rest in stocking stitch. When laid out it reflects the shape of the aerial view of the broch. I wasnt to re knit the grey part again though as its too puckered.
Fundamentally for me this has given me a whole new way of approaching design. By cross thinking my design process – I was able to access new ideas.
 I have had a definite perspective transformation in my design process. Using my previous experience I can develop the design solutions for one medium (eg knitting) which uses single fibres in its construction and flip it to benefit and enrich designs for my other process, silversmithing – using solid material to create shapes and designs. It has married the two sides of my practice together but in an unexpected way. It has opened doors in my head!  
 I loved taking a trip to Inverness to meet with other Ding Fellows at https://xponorth.co.uk/.  I loved seeing the work of Amy Gear, Tina McLeod and Hilary Grant.
https://www.amygear.com/  http://www.tinamacleod.com/  and https://hilarygrant.co.uk/
I also got to stay with old friends and take a trip through Culloden Woods (a novelty for any Shetlander!).
Wendy was the inspiration and original commissioner of my Snowflake Pussy Hat, pattern available here:-
https://www.helenrobertson.com/products/nevertheless-snowflake-pussy-hat?_pos=1&_sid=4394bfed0&_ss=r
and Stuart appeared in Last Breath, a truly uplifting tale of the dangers of North Sea Diving. https://www.imdb.com/title/tt9056818/
All in all I was very inspired and uplifted by my whole Ding experience! I am also delighted to report that actual archaeologists have been gifted and are buying and wearing my Mousa inspired necklaces! See if you can spot one and please take the trip to Mousa if you ever come to Shetland! https://www.mousa.co.uk/
Helen Robertson